Happy Monday!  It's time for another Celebrate Your Story! Link party.  This week, I also want to share some of the behind the scenes madness from last weeks Teen Room Reveal.    Each week Our link party features 3 fabulous stories from the amazing bloggers who link up with us.
Celebrate Your Story! Link Party is hosted by Sandra from Sweet Sensations and Chloe from Celebrate & Decorate  and Myself,  Jenny here at Paint Yourself a Smile
Here is what is going on in the land of Paint Yourself a Smile…James' room is finished!!   The One Room Challenge has officially come to an end.  It was a lot harder than it looked.  In five weeks' time I recreated the entire bedroom from the ground up with DIY projects!  I was worried when on the due day, I was staring at a very incomplete room.  Paintings weren't finished,  frames were still being built, nothing was hung in the room and there were a whole list of other issues that were still being worked out.  Here is what it looked like.
The Night Before the Reveal Madness
The Day of the Reveal Madness
At one point I was wondering if I was going to lose the battle and have to wave the white flag in defeat.  I alternated between episodes of tears and delirious laughter with the occasional appearance from DesignerZilla.  (FYI DesignerZilla is the interior Design version of BrideZilla.)  Surprisingly no one in my house likes DesignerZilla.  I have no idea why?  She is lovely.  But thanks to help from my family it all got done.  Check out the final product here!!!
Now on with the Link Party !!
---
Featured Posts from Last Week's Link Party
Chloe from Celebrate & Decorate wanted to feature Claire from over at Pillar Box Blue and  her amazing Table Mats made of maps.  OH MY GOODNESS Claire!!  wow.  I am so glad Chloe chose you because this is outstanding!  Head over to her blog and check this story out!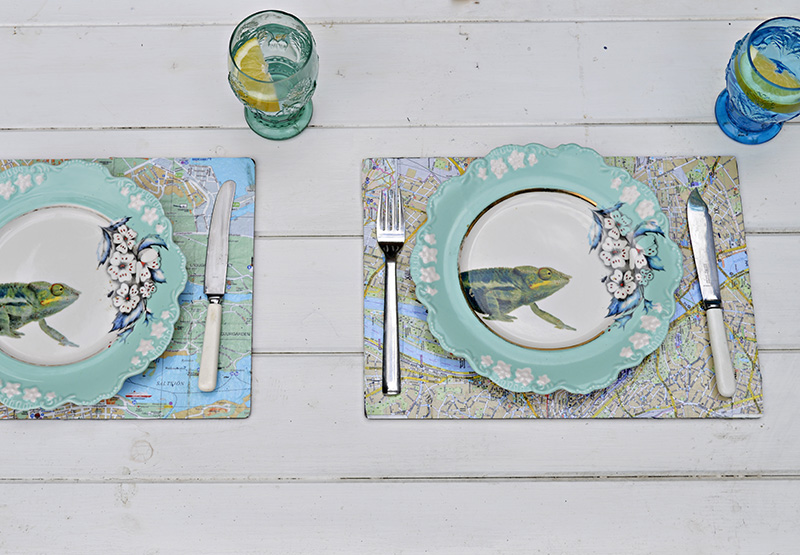 Upcycled City Maps onto Table Mats (Place Mats !)
The talented Sandra from Sweet Sensations, chose Grilled Chicken BLT with Roasted Garlic Parmesan Spread  from Morgan Manages Mommyhood.  This looks really delish!!!


Grilled Chicken BLT with Roasted Garlic Parmesan Spread
I had to pick the DIY Wire Spool table from Savy Apron.  I love the creativity in this.  Isn't Sherry  so clever!

Now it's your turn. I can't wait to see what you got. Please take a moment and visit some of the other posts shared. It is always fun to see all the great projects out there.
The link party opens Every Monday at 8:00pm EST so don't forget to come back later this week and see what gets linked up.
The rules for participating in Celebrate Your Story! Link Party are simple:
Follow your host blog.
If you are participating in Celebrate Your Story!, please be sure to add your permalink, and not your general blog address.
Do not add your post name/blog name IN ALL CAPS.
Please include a link in your post back to the party.
No Etsy shop links or similar, please link to original content on your blog.
Visit at least two fellow Story Sharers and leave them some love on their post!
Please limit your shares to only 3 per week.
Please note: by joining the Celebrate Your Story! Link Party you are giving your hosts permission to share your content on their site and social media platforms. Any photos used will be appropriately credited with links directing readers to your site.
Loading InLinkz ...
Receive smiles in your inbox!
Join my mailing list to stay up-to-date on all my DIY Projects, Thrifty Décor Ideas and Family Fun!.