Party Time
Happy Monday!  It's time for the Celebrate Your Story! Link party where bloggers from all around the web share their blog ideas and stories.  Check out the photo links below to see what these men and women share with us.   As for life here in Paint Yourself a Smile world,  I am up to my elbows in planning the teen bedroom for the One Room Challenge.  James' teen room just got a fresh coat of paint and hopefully tonight I will be starting a special wall treatment.  I would tell you more about it but it is still in the experimental stage.  You will have to come back on Thursday to see if my secret paint plan works out.  I look forward to sharing the photos with you on Thursday.
Now before we move on with the link party, I have a couple of stories that were linked last week I want to highlight.
First off,  anyone that knows me, knows I have a thing for painting (obviously) and a big thing for critters.  So when Clair from Pillar Boxblue shared how to make giant wall art, I was in love.  The painting is fabulous and OMG I want your dog Clair!!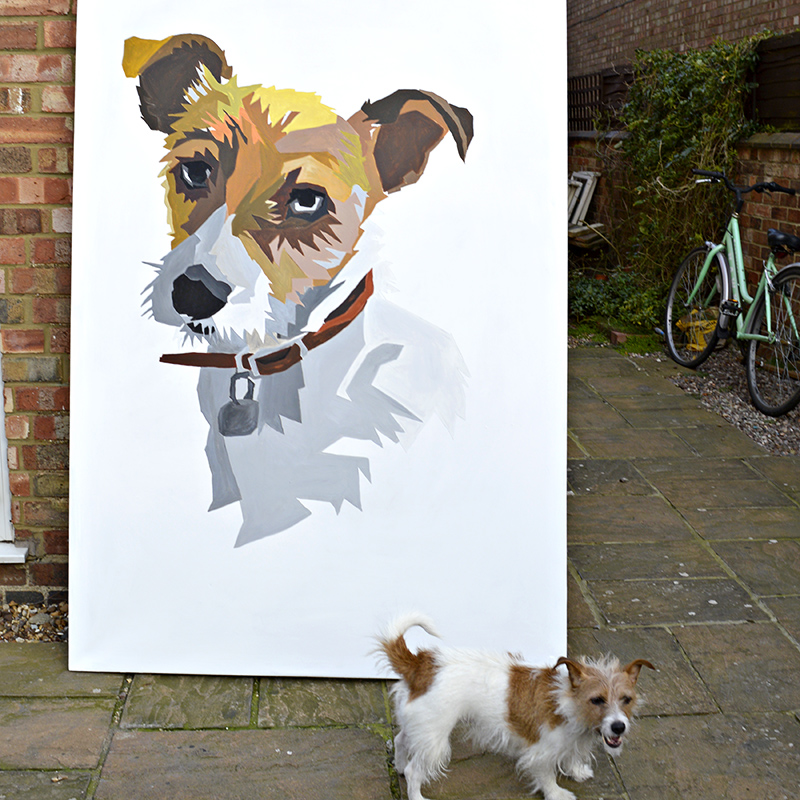 Clair from Pillar Boxblue  and the cutest dog ever
Next I have a real treat for you.  Vanessa from Vanessa's Modern Vintage Home shares her yard sale secrets.  She pretty much covers it all here.  Even if you are not a yard sale goer, you seriously need to visit her blog.  IT is AH-MAZING!  Run don't walk on over to Vanessa's Modern Vintage Home  You can thank me later!
Vanessa from Vanessa's Modern Vintage Home
And last but not least is this fun blue dresser from Niss and That.  She shares how she painted her dresser and her experience with Art Minds Chalk paint for Michael's.  It turned out very pretty for sure!

Niss and That
Now it's your turn. I can't wait to see what you got.  Please take a moment and visit some of the other posts shared. It is always fun to see all the great projects out there.
Celebrate Your Story! Link Party is also hosted by Danielle from Storypiece , Sandra from Sweet Sensations and Chloe from Celebrate & Decorate
The link party opens Every Monday at 8:00pm EST so don't forget to come back later this week and see what gets linked up.
The rules for participating in Celebrate Your Story! Link Party are simple:
Follow your host blog.
If you are participating in Celebrate Your Story!, please be sure to add your permalink, and not your general blog address.
Do not add your post name/blog name IN ALL CAPS.
Please include a link in your post back to the party.
No Etsy shop links or similar, please link to original content on your blog.
Visit at least two fellow Story Sharers and leave them some love on their post!
Please limit your shares to only 3 per week.
Please note: by joining the Celebrate Your Story! Link Party you are giving your hosts permission to share your content on their site and social media platforms. Any photos used will be appropriately credited with links directing readers to your site.
Loading InLinkz ...
Receive smiles in your inbox!
Join my mailing list to stay up-to-date on all my DIY Projects, Thrifty Décor Ideas and Family Fun!.